Cast a line into paradise
Truly an angler's paradise, Yellowstone Valley Lodge offers miles and miles of Blue Ribbon waters, as well as some amazing deals to help you take advantage of this unmatched location. We are proud to have partnered with Montana Fly Fishing Guides #10184, providing you with professionally guided fly-fishing trips and all-inclusive packages. Visit Montana Fly Fishing Guides' official website to learn more or view our list of packages and pricing below.
World-Class Fishing, Dining, and Lodging
Yellowstone Valley Lodge boasts exceptional variety not only in the hundreds of miles of fishable waters nearby, but also in the amenities and local activities for our non-anglers. We have several different cabin sizes to accommodate any size group from two up to 50. The dining experience is also quite different from most fishing lodges—we offer a full menu, not just a choice of entree.
Where We Fish
Yellowstone Rivers offers 140 miles Blue Ribbon water and some of the most renowned hatches in the American West. There are also plenty of private spring creeks and lakes to choose from, including the Paradise Valley spring creeks of Armstrong, DePuy, and Nelson—prolific for their reliable hatches and quality trout. Finally, Yellowstone National Park is home to incredible fly-fishing waters, available to those who book with Montana Fly Fishing Guides.
Stay and Fish Package
If you're looking for first-rate riverside lodging, delicious farm-to-table dining, and exceptionally experienced fly-fishing guides, then you've found the right place. All of our Stay and Fish packages include cozy accommodations at Yellowstone Valley Lodge, daily breakfast, lunch, and dinner, and expert services from Montana Fly Fishing Guides. View our fishing package pricing below or learn more on our offers page.
Package Pricing Breakdown
Montana bed tax, guide gratuity, and beer/wine are not included in the package prices. Package prices are listed per person. Contact us today for detailed pricing and availability.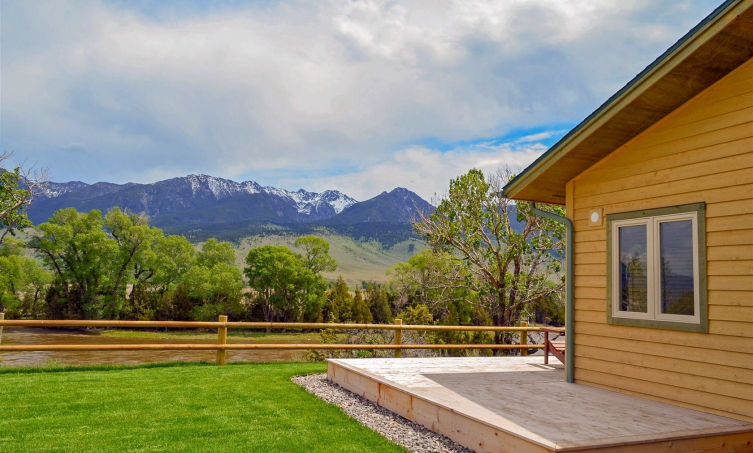 Bridger King Fishing Package
Enjoy lodging in a Bridger King Cabin, featuring a plush king-size bed, a full bath, kitchenette, satellite TV, Wi-Fi, and a living area with a queen-size sofa sleeper. This package would not be complete without expert fly-fishing guide services.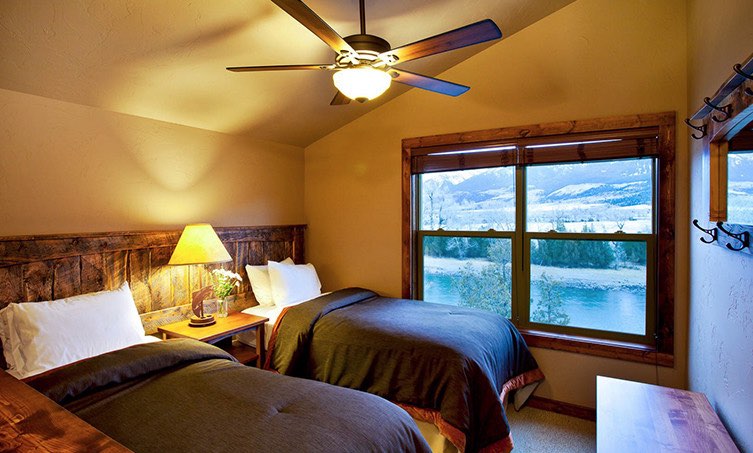 Deluxe Absaroka Fishing Package
The VIP of all-inclusive fly-fishing packages, our Deluxe Absaroka Fishing Package offers upscale accommodations in our Absaroka Deluxe Cabin, including two bedrooms, two baths, a living area, a kitchen, a large private deck, and more.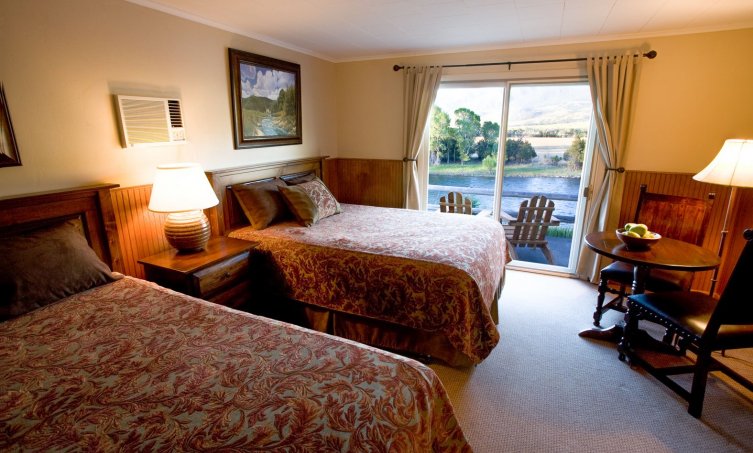 Standard Cozy Fishing Package
Receive all of our great fishing and dining opportunities with affordable accommodations in one of our Cozy Cabins, with two queen-size beds, a full bath, sitting area, mini-fridge, personal coffee maker, and semi-private deck overlooking the Yellowstone River.
Deluxe Absaroka Fishing Package
Length of Stay
7 nights / 6 Days
6 nights / 5 days
5 nights / 4 days Best Seller!
4 nights / 3 days
3 nights / 2 days
2 nights / 1 day
Double Occupancy
$4,455
$3,775
$3,095
$2,415
$1,735
$1,055
Quadruple Occupancy
$3,615
$3,055
$2,495
$1,935
$1,375
$815
Bridger King Fishing Package
Length of Stay
7 nights / 6 Days
6 nights / 5 days
5 nights / 4 days
4 nights / 3 days Best Seller!
3 nights / 2 days
2 nights / 1 day
Double Occupancy
$4,140
$3,505
$2,870
$2,235
$1,600
$965
Single Occupancy
$7,335
$6,200
$5,065
$3,930
$2,795
$1,660
Standard Cozy Fishing Package
Length of Stay
7 nights / 6 Days
6 nights / 5 days
5 nights / 4 days
4 nights / 3 days
3 nights / 2 days Best Seller!
2 nights / 1 day
Double Occupancy
$3,930
$3,325
$2,720
$2,115
$1,510
$905
Single Occupancy
$6,915
$5,840
$4,765
$3,690
$2,615
$1,540